Bushi Sushi™ Online Slot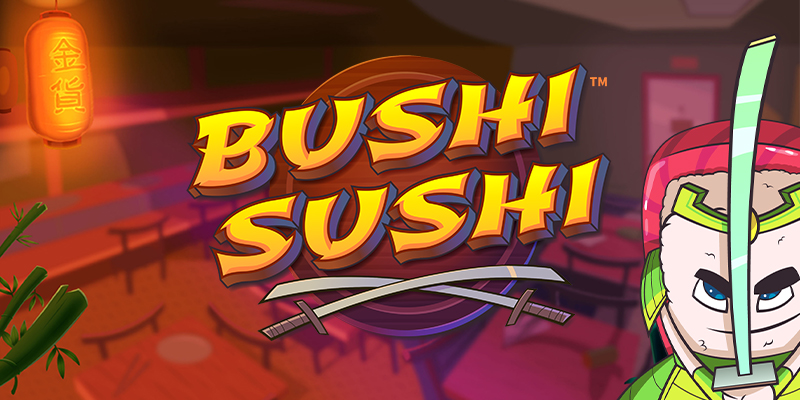 Source: Microgaming
With there being hundreds of different themes across a multitude of online casinos games out there, slots included, one would be hard pressed to find a theme that has not yet been discovered. Naturally, some are more popular than others, while some prove to be hidden gems. One theme that we don't quite see enough of, and which has so much potential for variety, is food. Bushi Sushi™ is a mouth-wateringly good online casino game from the collaborative minds of both Microgaming and Gold Coin Studios, and it's available to play at Royal Vegas, an online casino in Canada that has years of experience to their name, entertaining players in a safe and secure environment, whether they're choosing to access the casino via a PC, laptop, smartphone or tablet. But more on that later. For now, let's take a closer look at what players can expect to be served up when picking Bushi Sushi™ from the delightful menu of online slots at Royal Vegas. With 5 reels, 3 rows and 10 paylines, this number offers up a platter of entertainment – and the best part is, you don't even need to know how to use chopsticks! Hungry for fun? Let's go!
The Basics Of Bushi Sushi™
In old Japan, the word 'bushido' was used to talk about the 'way of the warrior' or, in other words, the code of conduct used by the samurai, which were a special class of royal warrior. As a result of this, you can expect to find more than just raw fish across the reels of this online casino game. We've already mentioned that the grid plays out across 3 rows and 5 reels, and sports a modest 10 paylines. Interesting to note, though, is the fact that this game pays out for matching symbols landing either from left to right, or right to left – a rare treat in most online slots games. The betting range of this title is incredibly impressive, as it begins with as little as 0.10 credits, and goes all the way up to a phenomenal 300, making it a great choice for all kinds of fans of online casino games, whether they're simply starting out on their gaming journey, or quite used to placing wagers with more than 2 digits. All of the buttons you'll need to play are located on the right-hand side of the screen, while the backdrop is quite simple and straightforward, featuring bamboo and lanterns – perfectly unobtrusive for those who enjoy playing online casino games on their mobile devices with a smaller screen. The audio is equally ambient, and can be toggled on or off as players see fit.
Flavourful Features And Symbols
Given the name of this online casino game, it only makes sense that players can expect to find a range of different sushi delights across its reels, with the higher values represented by two variants of nigiri (these are the ones where a slice of fish sits atop a block of rice) and two different types of maki (the ones where the fish and rice are wrapped in a roll of seaweed). The lower values are denoted by the J, Q, K and A icons, all of which have been given a bit of an oriental finish. The little sushi samurai with his katana represents the Wild, which means it has the ability to substitute for any other symbol in the game to help you hit potential winning combinations. Ordinarily, in online slots games, the Wild will not take the place of a Scatter, but in this game, it can! What's more, this Wild has the ability to appear Stacked when it lands, and any adjacent Wilds that land thereafter will see it grow larger, into a potential 3x3-sized symbol. The Scatter symbol we mentioned before is represented by a cleverly designed yin-yang symbol, with wasabi on one side and ginger on the other. Should you manage to land a minimum of 3 of this symbol, you will trigger around of Free Spins as well as a cash prize. Because these Free Spins are re-triggerable, you have the ability to score up to 40 of them. Finally, there is the Double Up feature, whereby players have a chance to potentially double their winnings from any spin – should they wish to try – by correctly guessing whether a flipped coin will land on tails or heads. This is very similar to the Gamble function we see in many other online slots games.
On The Menu At Royal Vegas
There are plenty of online slots games from Microgaming to be enjoyed at any number of online casinos in Canada, but we recommend checking out Royal Vegas. This premium gaming destination has been in the business of entertaining players from around the world for years, and is well versed in online entertainment. Apart from online slots, they also sport table games, keno-style selections, video poker and even a Live Dealer offering. Accessible on all manner of compatible devices, Royal Vegas is a treat for the senses from start to finish, and is the perfect place at which to take a seat and enjoy an online casino game like Bushi Sushi™.