Don Bingote Slots Review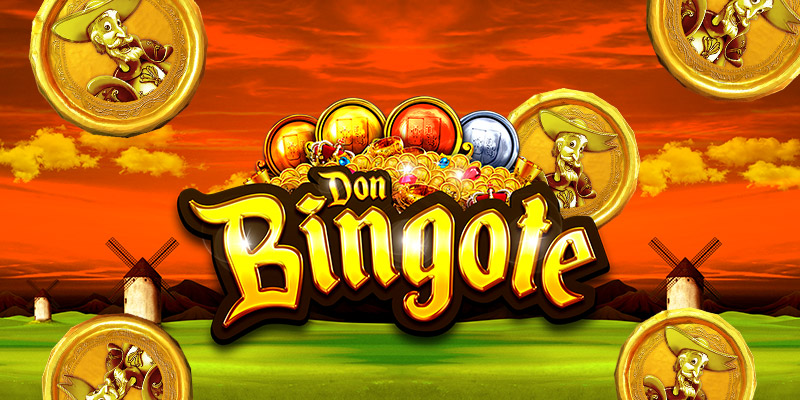 Source: Microgaming
Looking for something extra (and we mean EXTRA) in the slots department? Don Bingote's your guy. You get the picture. A half slot, half bingo breed created by Neko Games and Microgaming, Don Bingote's wild, colourful and 100% unique. Honestly, we wouldn't want it any other way.
On the game's interface, you'll meet Don Bingote – a character inspired by Don Quixote de La Mancha. The protagonist of a 1605 novel, Don Quixote's a pretty famous Spanish figure. Long story short, he takes on all sorts of chivalrous, knightly quests.
Which is all to say, that's why the slot's protagonist, Don Bingote, is dressed in armour (you're welcome).
It's not the first time Microgaming has impressed us with entertaining game themes. Around since 1994, Microgaming now partners with independent game studios to bring us even more incredible online and mobile casino games like Don Bingote. They're also often the first to develop new game mechanics, and Royal Vegas Online Casino Canada is proud to stock these unique creations as soon as they're released.
Now that introductions are out of the way, let's discover the wonderful features that await, including Bingote Jackpots of up to 5000x your bet, the Armour Bonus, Windmills Monsters Bonus and Diamantea's Castle Bonus, as well as the Wild Balls feature.
Bonuses? Bingo!
There are plenty of bonus features to play for in Bingote. Our favourite is the Bingote Jackpots, triggered by golden shields. These hide inside bingo balls and reveal themselves when a new round of 30 bingo balls is released. If enough are revealed and collected in the Jackpot panel above the tickets, a jackpot prize payout is awarded.
There's also a Wild Ball feature, which ties into the Extra Balls purchase option. Like a Wild symbol in a slots game, a Wild Ball can stand in for other Bingote balls to complete potential winning patterns.
All the other bonus features in Bingote trigger when you end up with the right ball pattern combinations.
One top of the ticket area, you'll see three patterns that momentarily flash words instead of values. These show you the fixed payout prizes per pattern, as well as the extra bonus feature associated.
Bonus 1 is Diamantea's Castle, a pick-and-click bonus game with 5 levels. Besides the fixed prize of 550x your bet, you could potentially score prizes of up to 1096x or even a random mystery prize too. Bonus 2, is a different pick-and-click game called Windmills Monsters, that also has 5 levels. Unlike Bonus 1, you'll get 3 instead of 4 objects to choose from. Bonus 2 has a 400x fixed prize, with up to 665x in possible payouts for your correct picks.
The last, Bonus 3, is known as Armour. This pick-and-click bonus also has a 400x fixed prize, but offers up to 640x your bet in payouts per ticket.
Game Statistics
Bingote has an average RTP of 95,09% and is ranked as a medium to high volatility game. In simple terms, these statistics mean that, on average, 95,09% of all bets on Bingote yield a 95,09% return rate and that instead of frequent, but small payouts, you'll probably find that potential wins are spaced out, but of medium to high value when they strike.
As for the payout potential, Bingote can potentially award up to 186,420 credits in winnings from a single spin, provided you're playing on maximum bet at the time.
Bet Sizes And Paytable
Bet sizes range from 0.5 to 10.00 credits per ticket, with 1 to 4 tickets available. If you play for anything less than 4 tickets, jackpot prizes are disabled.
Much like a slot's paylines, Bingote pays out for winnings according to winning patterns. You can find these by launching the game's paytable. You'll also see them displayed above the ticket area.
Playing Slots At Royal Vegas
Home to hundreds of high-quality slots, Royal Vegas Online Casino Canada has tons of fun themes for you to choose from. We accept 18+ members and ask that you register before you intend on playing.
Besides being a super-safe online and mobile hub, Royal Vegas rewards with optional daily promotions and loyalty programme perks. You'll also find a range of international deposit and withdrawal partners to choose from, and 24/7 support and advice on any casino-related topic you need.
If you enjoyed this review, you're welcome to check out some others. We regularly publish posts about our exciting casino games, which you can also share on Twitter, Facebook or WhatsApp (links at the top of the page). Until next time!