Hold'em Poker 2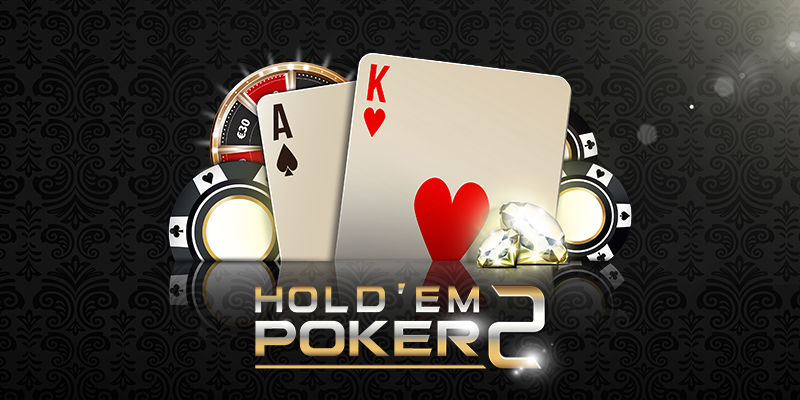 Over the years, there have been many variants of poker casino games, from Texas Hold'em to Three Card Poker and more, and while these may not be as popular as the typical online slot, software providers have tried to keep them as interesting as possible. This is one of the reasons why Microgaming has introduced a new kind of poker game, Hold'em Poker 2, and while the principles are the same as a regular poker game, there is a slight element of an online slot game in there, making it perfect for players that enjoy both these casino games. In order to understand Hold'em Poker 2, we first need to know the basics of Texas Hold'em, which we'll briefly cover next. Plus, online casino players in Canada will be happy to know that Hold'em Poker 2 is available to play right here at Royal Vegas Casino.
How Poker Works
The basics of a regular poker game, which can be found at any online casino in Canada, work as follows: you'll be playing with other players at the same table and each player will be dealt two cards, and only you can see your own cards. Then, three cards will be dealt face up on the table, then another one and finally the last card. In between all of this, betting will take place and it's up to you to match the cards in your hands with the cards that are shared on the table to find the best possible hand. It's also your task, if you will, to find out what cards the other players are holding based on the types of bets they make, but be careful, they could be bluffing. This really is Texas Hold'em poker in a nutshell, and you can find more details by launching any poker game at Royal Vegas Casino to find more details, as well as the various winning hands which can range from Tens or Better to a Royal Flush.
A New Version Of Poker
Hold'em Poker 2 introduces something new to the world of poker and casino games - an online slot element. with a jackpot wheel determining the prize pot. Basically, the game is a Sit & Go Tournament, and there are only three seats available for each tournament. The buy-in for each game is C$2 – a wheel will then spin to determine the prize pool, which can be anything from. as little as C$8 up to C$200. There is also a progressive slot within the wheel, which means that the pot will continue to grow as the game progresses. If the wheel lands on either the C$200 spot or the progressive jackpot, the prize will be split amongst the three players: the winner will get 50%, while second and third place will get 30% and 20% respectively. The rest of the game works exactly like a regular Texas Hold'em Poker game, with the hands such as Jacks or Better, Three of a Kind, Straight and Royal Flush also in play. It's an exciting twist on a classic game, so if you want to find out more about Hold'em Poker 2, you can simply launch the game at Royal Vegas Casino and click on the Help file to get all the details on how to play.
About Microgaming
Software provider, Microgaming, has been around since the launch of the first online casino in Canada, and has provided players with plenty of exciting times as they continue to create new and innovative casino games on a regular basis. While online slot games are what they specialise in, they don't shy away from other types, and Hold'em Poker 2 is an excellent example. Of course, Microgaming has also created plenty of video poker, scratch cards and table games over the years, but the latest addition to the video poker family is a true example of how regular games can be made more exciting by simply adding a few elements, and we hope this is the start of many more to come.
Available At Royal Vegas
We are happy to announce to online casino players in Canada that Texas Hold'em 2 is available to play at Royal Vegas. Fully licensed and certified by eCOGRA, Royal Vegas offers a variety of casino games, which include online slots, table games, scratch cards and variants of video poker games. If you're not a member yet, registering an account is quick and easy, and there is a helpful search button upon login where you can search for your favourite game. Already a member? Simply log in to find Hold'em Poker 2 in the line up of video poker games. And be sure to check back for more exciting reviews on new games that are launched at Royal Vegas on a regular basis.