How To Play Video Poker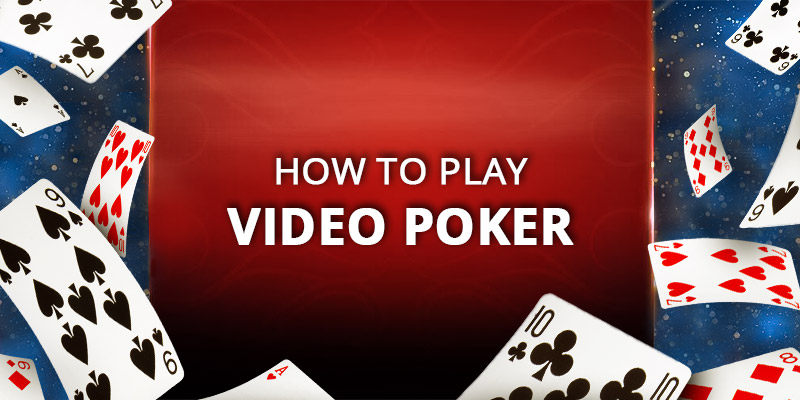 If you're used to playing online slots, trying out new casino games can feel intimidating. Today's how-to guide focuses on one of the most popular games at Royal Vegas Online Casino Canada. And that, dear reader, is video poker.
First, we'll explain how the game works and why bankroll management is so important. Next, we'll explore the various poker hands in order of hierarchy. Last? We'll check out some popular video poker variants, online slots and other fun casino games.
1: Manage Your Money
Video poker rules are generally standard across the board. So, if you know how to play draw poker offline, you can apply most of this to the online space. But the most important aspect to enjoying video poker is bankroll management. Why? Because knowing exactly how much money you're working with will help guide your bet sizes.
A good approach is to decide how big you want your bankroll to be before you log in to play at Royal Vegas Online Casino Canada. Additionally, consider setting a deposit limit. You can do this at any time, provided you're logged in.
If you're using our mobile casino, tap your username icon to view your account menu. On our online casino, hover over your username icon to reveal the menu contents instead.
Go to Help, then find the Responsible Gaming tab. Once expanded, you'll find guidance on the various settings you can enable.
2: Learn The Rules
As mentioned above, video poker generally follows the rules of draw poker. Online video poker uses a 5-card draw mechanic and deals cards face down. Draw poker is usually played amongst a table of up to 8 people in real life. Video poker is only played by two: you and the dealer.
Of course, in video poker, the dealer isn't visible. In this case, RNG (random number generator) software stands in for the dealer.
Your goal in video poker is to create the highest-scoring hand possible. For this reason, it's super important to memorise as many poker hands as possible, which we'll go over in a moment. The reason? Poker hands dictate whether you should hold or discard one or more of your cards.
Let's backtrack.
You log in, navigate to the Video Poker tab and launch a game that catches your eye. With your budget in mind, you choose your coin size and the number of coins you'd like to bet. You click or tap the deal button to receive 5 face-down cards.
After revealing your cards and observing your hand, you choose which cards to hold. The trick is to only hold onto cards that could result in a winning hand.
To hold, click or tap the card or cards you want to keep. If you don't want to hold any cards, click the deal again button.
Now, you have your final hand. If your hand features on the paytable, you receive a payout.
Some video poker variants include a gamble feature. This gives you the chance to double or even quadruple a winning hand's payout amount. You'll either have to guess the outcome of a dice roll or card flip.
A correct guess awards a double or quadruple multiplier on your original win. An incorrect guess means you lose your original payout amount - hence the feature name.
3: Memorise The Hands
The best thing you can do to play video poker with ease is to learn the names of the most common poker hands and which cards they consist of. What we found easiest is to do a quick search for poker hands in your web browser, and keep that tab open while you play.
You can even write them down on a piece of paper until you know them off by heart. Once launching a video poker game at Royal Vegas Online Casino Canada, you'll notice that the paytable is in plain sight and features only the names of the various hands, and not the cards that make them up.
There are many different hands, ranked from lowest to highest. Hands include:
Royal Flush, which is made up of five card royals of the same suit. Then there is the Straight Flush, consisting of 5 cards of the same suit in any sequential order. Next is Four of a Kind, a poker hand that features 4 cards of the same rank, plus any other card, also known as the kicker. Marked by three of a kind and two of a kind sets, a Full House is the next ranking poker hand that beats a Flush. Made up of any five cards from a single suit, a Flush follows a Full House on the paytable. Video poker games also feature the Straight, which is any combination of suits of sequential value. Next on the list is Three of Kind, which is made up of ranking cards in sequential value of any suit, with two kickers or any-value cards. Nearing the end is the Two Pair, consisting of two pairs, made up of ay suit, with an added kicker of any value. The last poker hand we recommend knowing is the Pair, an any-suit pair followed by three kickers.
Video Poker At Royal Vegas
Powered by Microgaming, all the video poker games you'll find at Royal Vegas Online Casino Canada are unique in their own way.
Not sure where to start? There's Bonus Deuces Wild Poker, Jacks or Better Poker, Aces & Faces Poker, Joker Poker and Double Double Bonus Poker, just to name a few.
You'll even find a range of high-quality live dealer poker games from Evolution, on top of hundreds of Microgaming's finest online slots, progressive jackpots and thrilling table games like blackjack and roulette.
We hope you enjoyed today's how-to guide and wish you all the fun as you embark on your personal video poker journey at Royal Vegas!