Las Vegas Shows, Sports, and More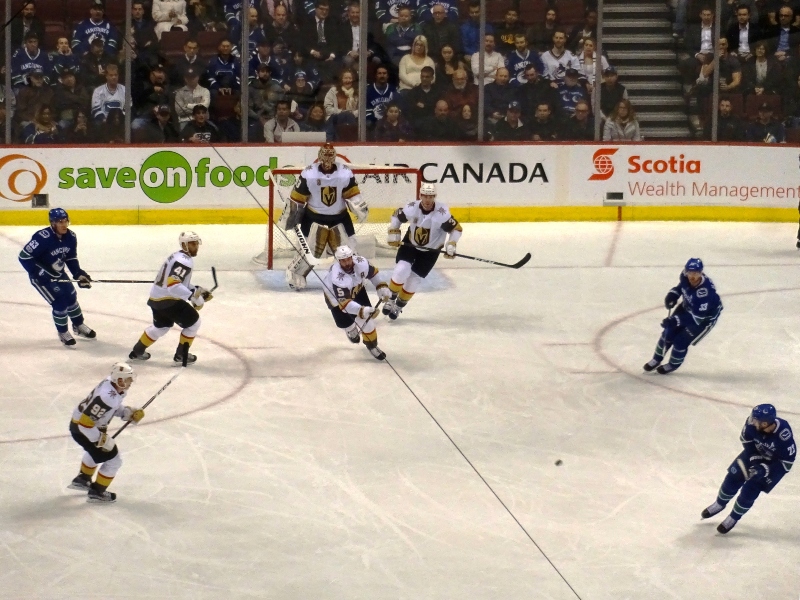 Source: Photo by Matt Boulton
For a long time Las Vegas has been one of the world's premiere destinations for all sorts of fun, like shows, sightseeing and, of course, lots of casinos. But because officials were concerned that games might get rigged in the betting capital of the world, they lacked a lot of the big-name sports teams that other cities of similar sizes boast. That's all changing recently, though, as some awesome new pro teams have decided to call Las Vegas home. Royal Vegas Casino profiles the big players of pro sports in the entertainment capital of the world.
Of course, Las Vegas already had plenty to offer, even without their new additions. Casinos often have amazing art exhibits, top-notch shows, and five-star restaurants. But by beefing up their selection of sports, the city could draw even more people, and provide more ways to spend a week in the city. You can now round out your amazing getaway plans with live professional sporting events. Here are some of the most exciting new additions to the city's line-up, which you can catch on your next trip to the city.
NHL: The Golden Knights
In 2017, Las Vegas residents and visitors rejoiced when the Golden Knights became the first professional sports team in the city. They were an NHL expansion team, rather than a transfer from another city, and play in the T-Mobile Arena right off the Las Vegas Strip. They're owned by Bill Foley and the Maloof family, both successful names in business in the Las Vegas area. Their investment is paying off with the team's impressive record so far immediately starting off with a 3-0 win streak and a slew of other first-season records.
The Las Vegas Golden Knights chose an available player from all 30 teams in the NHL during the 2017 NHL Expansion draft. Their picks included great players like Marc-Andre Fleury from the Pittsburgh Penguins and winger James Neal from the Nashville Predators. The team went on to make it to the playoffs, becoming the first in NHL history to sweep their first playoff series during their first season. They kept winning, and in the Stanley Cup Finals, they lost to the Washington Capitals. Even though they didn't take the cup home, they still made history for their great appearance during their inaugural season.
Las Vegas hosted NHL games before they had their own team, including special events like outdoor games and preseason tournaments. In 2009, they also started hosting the NHL Awards each year. The fans who looked forward to these events finally and were wishing they were more frequent finally had their dreams come true when the Golden Knights arrived!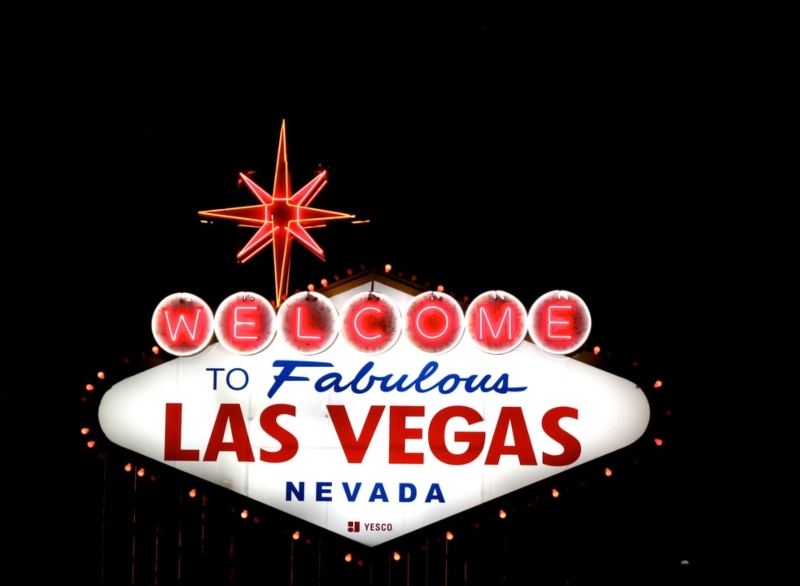 Source: Photo by John Such on Unsplash
WNBA: Las Vegas Aces
The Las Vegas Aces fulfilled the city's dreams of having a professional basketball team, though lots of fans are still hoping for an NBA team as well. The ladies of the Aces play at the Mandalay Bay Events Center. Before they were in Las Vegas, they were the Utah Starzz, starting in 1997, then moved to San Antonio where they stayed until 2017. The team finally found their home in Vegas in 2018, and received a warm welcome from enthusiastic basketball fans.
Like a lot of the entertainment in Vegas, they're owned by MGM Resorts International. They give sports fans another way to spend a fun evening in the city if they want a break from the casino.
Their first year in Vegas wasn't a great season, and they'd didn't qualify for the playoffs. But, in the 2019 season, they won the semifinals and finals of the Western Conference under the direction of coach Bill Laimbeer. Their games get decent attendance, with almost an average of around 5,000, and are also broadcast throughout the region for fans to enjoy.
Over the years, several NBA teams were rumored to be considering relocating to Las Vegas, such as the Sacramento Kings or Milwaukee Bucks, but none of the rumors came true. Former NBA player Jackie Robinson has an ongoing project to build All Net Resort and Arena, which would be a great attraction not only for sports fans but possibly for an NBA team as well. Fans still get a taste of the NBA every summer, by hosting the NBA Summer League.
There have also been discussions of the truncated 2020 NBA season being relaunched in Las Vegas. The NBA has considered finishing their season with the Playoffs in a return-to-play tournament hosted in the city's arenas. If they decide to move forward with the rest of the season, then Las Vegas makes sense as the location because it's neutral and would put the teams in a central location.
NFL: The Las Vegas Raiders
The newest, and perhaps the most exciting, addition to the Las Vegas sports lineup is the Las Vegas Raiders. Formerly the Los Angeles Raiders, they decided to make the move to Vegas starting in 2020, where they'll play home games at Allegiant Stadium. The team has been around since 1960, when they began playing in Oakland, California.
The Raiders have seen their share of wins, with 3 Super Bowl championships (1976, 1980, and 1983), but their last playoff appearance was in 2016, and before that in 2002. Las Vegas football fans are hoping that their record picks up now that they're in a new home. They have a huge fan base, who call themselves "Raider Nation", cheering for them even when they aren't at the top of the league.
Unfortunately, the Raiders were also the focus of a scandal in 2003, in connection with the BALCO company who were investigated for sports doping for a drug called "the Clear" and human growth hormone. However, the air has cleared around this scandal and the team is no longer the focus of controversy.
Now that the team is in Las Vegas, the Raider Nation is sure to expand more in the city. Their fans are known for showing up early to tailgate, wearing costumes and paint to show their support. They even have two songs by Ice Cube as their anthems to get hyped pre-game. They're a perfect match for the exciting and fun-loving atmosphere in the city!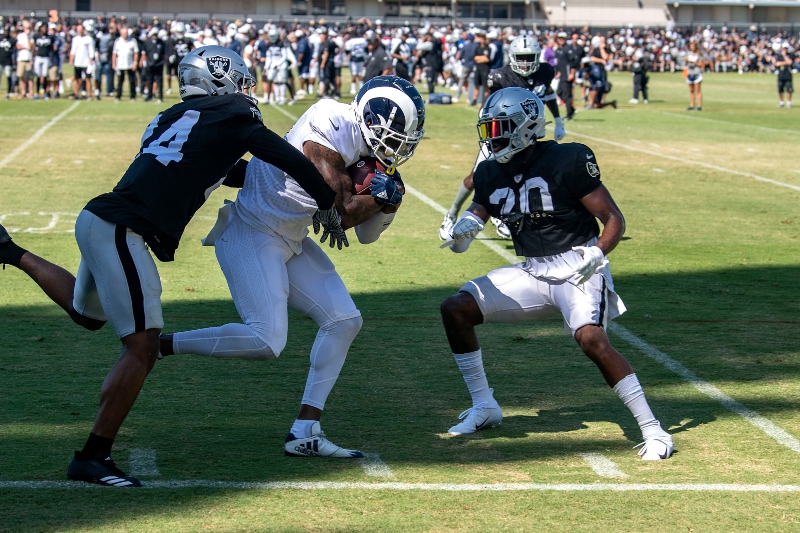 Source: Photo by The 621st Contingency Response Wing
More Sports and Betting in Vegas
Vegas has long been known as a great place to catch UFC and boxing matches. The excitement of watching fighters face off in the ring is a great match for a city of non-stop action. Boxing is one of the city's biggest loves, and the Las Vegas Convention Center has seen its share of historic boxing matches between the greats. More recently, with UFC's rise in popularity, they've expanded this passion for a good fight to a new ring. UFC is so raw and action-packed that it's hard to look away—whether it's on the TV or right in front of you live at a Vegas venue.
Even if Vegas doesn't host all of the teams that fans might wish they did, it's always been a great place for sports betting. Fans can make sports book bets on winners and scores based on the current odds and their favorites in each team's lineup. Long before there were professional sports teams in Las Vegas, sports book betting was how the city's enthusiasts kept the excitement alive during big sporting events in soccer, basketball, and baseball, among others.
Catching a live game on a trip to Vegas would be a great addition to any Vegas vacation. Enjoying the excitement of the stadium and cheering on the local team would be an amazing way to spend an evening before heading back to the casino and continue playing. Sports will join the huge selection of other options for entertainment, like visiting shows and concerts, as well as the in-house entertainment that makes certain casinos stand out.
If you're dreaming of a trip to Vegas, you can already enjoy a lot of your favorite online casino games matter where you are. You can play fun progressive slots for a chance at great jackpots at Royal Vegas. Or, recreate the feel of playing in a Vegas casino with our selection of Live Casino Games. Just like Las Vegas, there's no end to the ways you can have fun at the online casino at Royal Vegas. Whether you like playing at home for a relaxing evening or you're just getting yourself excited for your upcoming trip to the Strip, Royal Vegas is the place to be!
You may also like: https://ca.royalvegascasino.com/blog/most-popular-and-accessible-music-and-video-streaming-apps/