Drinking Coffee Around The World
Source: Mike Kenneally / Unsplash
I bet that the first thing you do in the morning once you are finally done snoozing your alarm is hobble towards the kitchen and serve yourself a nice cup of coffee. If you're Canadian, your coffee is probably filtered, and you'll drink it either black or with a little milk & sugar. For you that will seem like the most obvious, or even the only way to drink your cup of joe.
But here's the thing: every country has its own specialty coffee, ways to drink it and rituals. Some may be familiar: not a lot of people today don't know that Italians like their Espresso standing up at the bar. But not all countries' coffee drinking rituals have been displayed in movies, media and I'll bet you my winnings at my favourite online slot that you've never heard of the ones that'll follow.
Of course, we couldn't talk about all coffee drinking traditions so we made a selection of the 7 coffee drinking recipes and rituals that will surprise North Americans and to be fair, we chose one tradition per continent.
Without further ado here are the coffee cups.
Europe: The Eiskaffee
Let's start with a drink that almost seems like it should bake in the oven. The Eiskaffee comes from Germany and is one of the most deliciously drinkable desserts you could find, complete with ice cream and chocolate chip.
 Recipe:
Put two scoops of Ice Cream (usually vanilla) in a cup and add the coffee. Top it with some whipped cream and chocolate chips.
1 Cup of coffee
2 Scoops of Ice Cream (usually vanilla)
Whipped Cream
Chocolate Chips
South America: Café Lagrima
The Argentinean Café Lagrima literally translates as Tear Coffee. No need to worry tough, the server wasn't having a melt down in the kitchen. A Café Lagrima is actually a hot drink with a hint of coffee often enjoyed by non-coffee drinkers.
Recipe:
Fill an espresso cup with milk and add a drop of coffee.
Africa: Cafe Touba
This Senegalian drink is made with Arabica coffee grounds that are infused with Ginae black pepper and cloves. This coffee is believed to have healing properties such as relieving stomach aches, help with respiratory problems and asthma and even act as an anti-depressant. Who said coffee wasn't good for you?
Recipe:
Roast the coffee with cloves and Guinea black pepper. Boil some water and filter the coffee. Repeat a few times and add sugar. You can find the complete recipe here.
South America: Café de Olla
Mexico also likes to mix his coffee with spices. For this delicious drink, they mix dark roasted coffee grounds with water, brown sugar and cinnamon in a stainless-steel saucepan. The drink is then served over an orange peel (in a cup!).
Rich and tasty, we surely hope that our favourite celebrity chefs will pick up on this amazing recipe and make it easier to find here in Canada.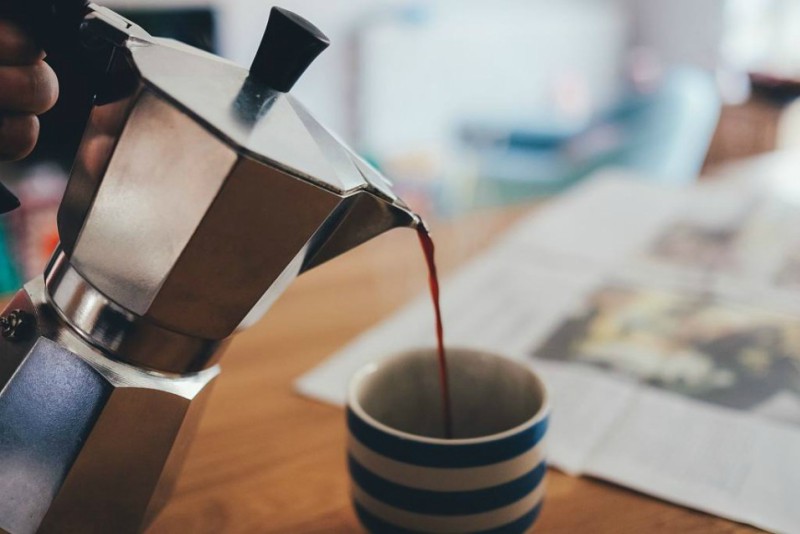 Source: Ideas y manualidades
Asia: Ca Phe Da
This Vietnamese Ice Coffee is almost a desert for North Americans. It is a mix of coffee and condensed milk that gives it a sweet taste and rich texture and it is incredibly hard to resist too (although I do not understand why someone wouldn't want to try it).
Recipe:
The Vietnamese use a small French drip filter in which they put dark roasted coffee that is then directly poured over ice and condensed milk.
Central America: Café Cubano
This very potent drink is an absolutely vegan concentrated energy bolt (learn more about plant based vs. vegan diets here). This drink is made of equal parts sugar and espresso and is drunk in a very small cup. It has a thick, slightly viscous texture and is usually served in small paper cups.
Oceania: Flat White
The invention of this Australian drink goes back to the 1980s and has been the most popular drink there ever since. Quite similar to the cappuccino and the latte, this drink is enjoyed in a smaller cup. The other difference from our friends down under? The proportion of milk is slightly higher than we are used to. 
Recipe:
Make an espresso in a tall cup. Using a foamer, make a light milk frost and pour it over your coffee.
Sadly today, intense agriculture has made it harder and harder not only to find good coffee but also to produce it in a sustainable way. If we aren't more careful, the way we eat will shortly destroy our beautiful planet so don't miss out on learning what you could do to have a more environmentally-friendly diet.
And if this article made you want to travel why don't you read on the Top 7 Monarchies That Still Rule The World and prepare your next trip?